French Dressing With Sour Cream
Zurie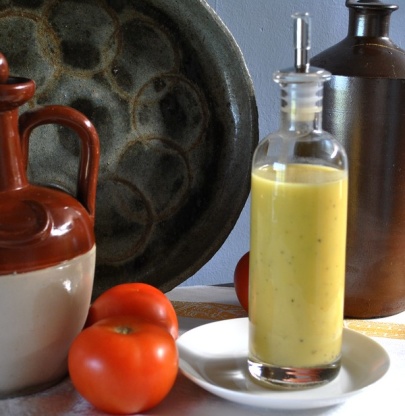 Ever since I enjoyed this dressing on salads everywhere in France, I have been trying to duplicate the recipe. It was simple, I knew, but it took me ages to get it right. It might be even better with lime juice, which I can't get right now. Please adjust the tanginess to your taste. I love the freshness, the French-ness of this dressing!
60

ml lemon juice, freshly squeezed (1/4 cup, or use lime juice)

10 -15

ml sugar (2 - 3 teaspoons, please start with 2 tsps and adjust later)
3⁄4 teaspoon salt
1⁄4 teaspoon paprika

1

teaspoon mustard, smooth, Dijon
1⁄4 teaspoon pepper, white

60

ml sour cream (1/4 cup, can use creme fraiche)

180

ml olive oil, virgin (3/4 cup)
Squeeze lemon or limes over a sieve into a medium mixing bowl.
Whisk in the other ingredients (not the olive oil) until very smooth, and the sugar has just about dissolved.
Whisk in the olive oil in a thin stream, almost as for mayonnaise. The dressing will thicken slightly -- it won't become thick, and it's not supposed to.
Taste the dressing: you might want to add more lemon juice. Mine needed a squeeze more than stated above.
Decant into a salad dressing container or bottle.
Great over any type of salad.