French-Canadian Pea Soup (Soupe aux pois)
Meringue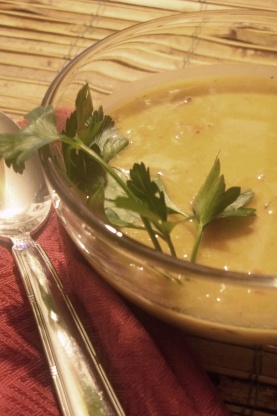 A traditional dish for Fridays (a legacy from Quebec's religious past). After cooking, I like to remove about half the peas and puree them in order to thicken the soup. I use a ham bone or pork hocks instead of salt pork. The savoury is essential to get the right flavour. You can also soak the peas overnight instead of using the quick-soak method.

Top Review by Andre
This recipe is very close to my own. It is one of my favorite comfort foods. I use summer savory when I have it. French-Canadian Pea Soup also freezes well and is quickly reheated in the microwave. It may taste better reheated after it has spend overnight in the refrigiraor.
Wash and sort peas; place in a large pot, bring to a boil.
Remove from heat and let sit for 1 hour.
Add salt pork, onion, celery, carrots, savory and 1 tsp salt.
Bring to a boil; reduce heat and simmer until peas are very tender, about 2 hours, adding more water if needed.
Remove salt pork; chop and return to soup.
Season to taste with salt and pepper.