Kathy228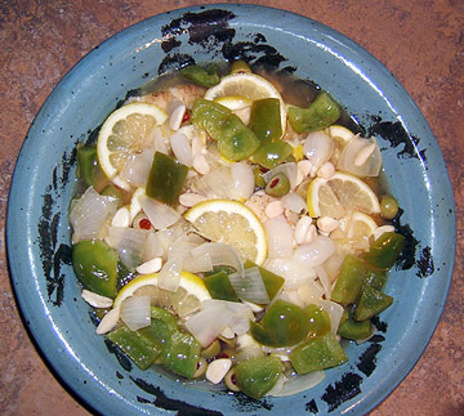 Good for lunch, a cold starter, a side dish. I like it atop a big salad. Keeps well in the fridge for almost a week. I've tried many types of fish and prefer tilapia for taste and texture. You can substitute the jalapeño pepper with a half red bell pepper.

I was surprised - I liked it. I had it for lunch on top of baby spinach as a salad. I used pickled jalepeno instead of a fresh one. After tasting it I added a chopped fresh tomato to the salad. I think next time I make it I will use black olives instead of green.
Season the fish with your favorite seasonings and dredge in flour to lightly coat.
In a large skillet, heat 2-3 tbsp of the oil over medium heat.
Fry the fish in batches 'til golden on both sides and almost, but not quite, cooked through. Remove and drain on paper towels.
In another skillet, heat 3 tbsp of oil over medium heat.
Add the onions, garlic, peppers, bay leaves, thyme, peppercorns, salt.
Cook, stirring occasionally until the onions are soft, 8 to 10 minutes.
Remove the onion mixture from the heat and add the vinegar. Stir to combine and let cool.
Lay the fish (in one layer if possible) in a glass or glazed ceramic dish. Cover with lemons slices and olives.
Pour the cooled mixture over the fish, cover tightly, and refrigerate at least 12 and up to 24 hours. Eat cold.