Derf2440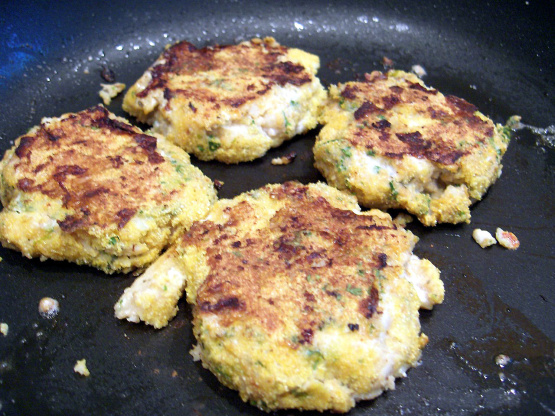 Nice taste, especially with Green Goddess Sauce. from B H & G low cal

I used a mixture of flounder and surimi, mainly because that is what I had as dinner choices I didn't make yet. I definetly should have upped the amount of bread crumbs. The cakes kept falling apart while I cooked. But besides that, they taste awesome.
12

ounces fresh skinless white fish fillets or 12 ounces frozen skinless white fish fillets (such as haddock or cod)

1

beaten egg
1⁄4 cup fine dry breadcrumb

2

tablespoons finely chopped onions

4

teaspoons light mayonnaise or 4 teaspoons salad dressing

1

tablespoon dijon-style mustard

1

tablespoon snipped fresh parsley

1

teaspoon lime zest
1⁄4 teaspoon salt

2

tablespoons cornmeal

1

tablespoon cooking oil
green goddess sauce (in 'zaar)
chives (optional)
thaw fish, if frozen, rinse fish, pat dry with paper towels.
Cut fish into 1/2 inch pieces.
Set aside.
In a medium bowl, combine egg, bread crumbs, onion, mayonnaise or dressing, mustard, parsley, lime zest and salt.
Add fish, mix well.
Shape into 1/2 inch thick patties.
Coat both sides of the fish patties with cornmeal.
In a large nonstick frypan or on a nonstick griddle heat oil over medium heat.
Add half the fish cakes.
Cook for 4 to 6 minutes or until fish flakes easily when tested with a fork, gently turning once.
Remove from frypan.
Repeat with remaining cakes.
Serve with Green Goddess Sauce.
If desired garnish with fresh chives.