Fish and Chip Bake With Spinach and Sour Cream
Deb G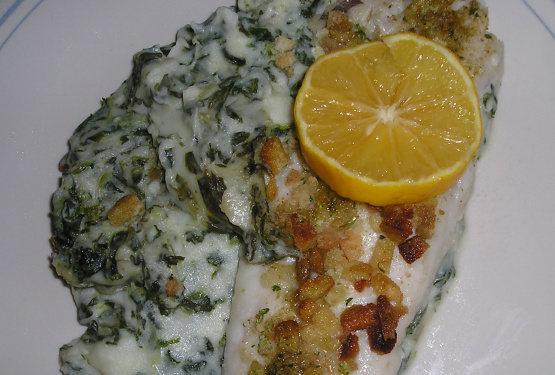 Crisp coated fish fillets atop a bed of mashed potatoes, chopped spinach, and sour cream. Delicious! From BH&G All-Time Favorite Recipes Cookbook.

Top Review by Deb G
Wow! DH and I totally enjoyed this! I omitted the herb stuffing mix---just drizzled the butter on the salted fillets. I did also add a little salt to the spinach when I cooked it. I would have never thought of mixing spinach and mashed potatoes together, but I'm glad someone did and that you posted it here! We will definitely be having this often.
Prepare potatoes according to package directions, except reduce water by 1/4 cup.
Stir in well-drained spinach (be sure to drain well!), sour cream, and pepper. Turn into a 10x6x2-inch baking dish.
Skin fish fillets. Dip one side of each fillet in milk, then in crushed stuffing mix. Fold fillets in half, coating side out.
Place atop potato mixture; drizzle with melted butter.
Bake, uncovered, at 350 degrees till fish flakes easily when tested with a fork, 30 to 35 minutes.
Serve with lemon slices.
Makes 4 or 5 servings.