Finnish Nisu - Sweet Bread
KyAmy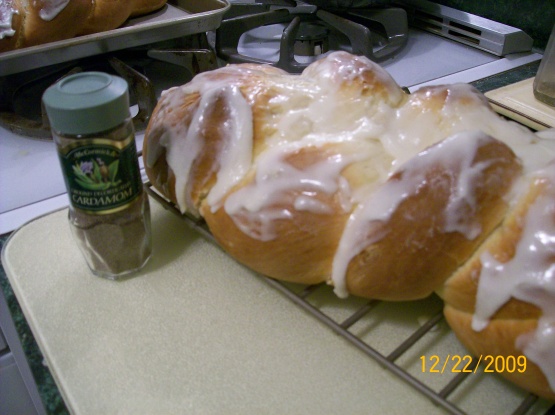 Finnish Coffee Bread - great with butter and jam. Most Finns serve with coffee and around the holidays.

Top Review by KyAmy
My husband and I made this for Christmas 2009 and it was a smash hit! The smell and taste of this bread really brought back wonderful memories. My mother's family is Finnish and our grandmother would always bring us Nissua, or Nisu, especially for Christmas! (the family came from Finland in the late 1800's and settled in a small town in northeastern Ohio called Ashtabula). We've lost a number of our elders over the past several years, including my mom and her mother. Making this for the family was so very special for us; my dad was only going to eat one piece but he was back for seconds, and thirds, all within 10 minutes of the first cut! I think he missed this tasty treat as much as we did. This is real yummy when toasted and spread with fresh butter. My sister-in-law couldn't get enough of it and had a slice every morning for breakfast during their visit. This will definitely become a Christmas family tradition from now on!
Dissolve the yeast in the warm water.
Stir in the milk, sugar, salt, cardamon, eggs and enough flour to make a batter (approx. 2 cups).
Beat until dough is smooth and elastic.
Add about 3 cups of flour and beat well.
Dough should be smooth and glossy in appearance.
Add remaining flour 1 cup at a time until dough is stiff.
Add the butter; beat until dough looks glossy again.
Turn out onto floured board, cover with inverted bowl.
Let rest for 15 minutes.
Knead until smooth and satiny.
Place in lightly greased bowl, turn dough to grease top, cover lightly and let rise in warm place- until doubled in size.
Punch down; let rise again.
Turn out onton a lightly floured board, divide into 3 parts, and divide each part into 3.
Shape each piece of dough into a strip 16 inches long by rolling between palms and board.
Braid 3 strips together into a straight loaf and pinch ends together and tuck under.
Repeat for second and third loafs.
Place on lightly greased baking sheets.
Let rise until puffy (1/2 to 1 hour).
Glaze loaves with a mixture of beaten egg and milk.
Sprinkle with sugar and sliced almonds.
Bake at 400 degrees for 25-30 minutes.
Do not overbake- or bread will be dry.