Fig and Gorgonzola Savouries (Thumbprints)
Jostlori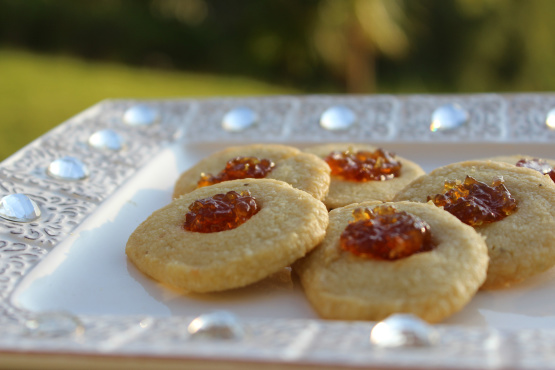 Modified recipe by TheRunawaySpoon, on the Food52 blog. These delicate, crumbly little thumbprints are the perfect combination of sweet and savory, as their names suggests -- they're like a great cheese plate all wrapped into one crunchy little morsel. TheRunawaySpoon's simple food processor dough yields tender, buttery coins flecked with blue cheese and black pepper. A good quality fig jam is crucial here; if you can't find it, quince or pear jam would also work well

Well, these definitely aren't diet food!!! But they're well worth the guilt that settles in when all that's left are the crumbs... These little morsels are scrumptious, and we followed the recipe exactly with no changes to the dough. But fig jam is near impossible to find here, and if we did it would probably ruin our food budget. So we used a bit of quince jam on some, and some chiverre on the others (chiverre is a type of candied squash that's traditional here in Costa Rica around Easter). Either way, they were great! These would make a wonderful little canape, but warn your guests that they're quite fragile, or they'll end up with a crumbled mess if they're too rough with them. Mmmmm... buttery, flaky, blue cheesy, sweet. Can't get better than this! Made for Photo Tag Spring 2013. Thanks for posting, Laura!
Preheat the oven to 350 degrees. Line a baking sheet with parchment paper.
Place the flour, butter, Gorgonzola, and a few grinds of black pepper in the bowl of a food processor. Process until the dough just comes together and starts to form a ball.
Dump the dough onto a lightly floured surface and knead a few times to pull the dough together.
Shape dough into logs, wrap in plastic wrap, and chill for an hour in the freezer.
Slice logs into 1/8 inch thick slices, and place onto a parchment-lined baking sheet.
Using the back or a round half-teaspoon measure, or your knuckle, make an indentation in the top of each dough round. Spoon about 1/4 teaspoon fig preserves into each indentation, using your finger to push the preserves as best as possible into the indentations.
Bake the savories for 10 – 14 minutes, until the preserves are bubbling and the pastry is light golden on the bottom.
Let cool on the baking sheet for at least 10 minutes, the remove to a wire rack to cool.
You'll find fig preserves at the grocery – it may be shelved with the "fancy" jams and jellies. You can make these a day ahead and keep them in two layers separated by waxed paper in an airtight container.