lazyme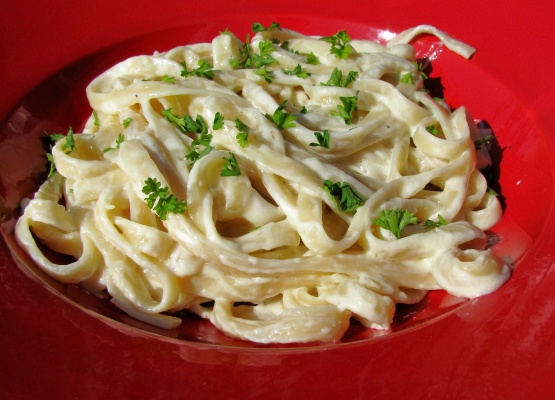 I can't remember where I came across this recipe but it was on the web somewhere. There isn't another exactly like it here at recipezaar. I like it because it doesn't use cream cheese which I think is cheating a bit. I don't think you would find cream cheese in the traditional italian dish. This dish requires constant attention so be advised!

This is so yummy! I have made alfredo once before and thought this recipe was far superior to the one I used before. I did add a little bit of fresh grated nutmeg at the suggestion of a friend of mine and thought it added a nice touch to the recipe. I would definately make this again! Thank you for sharing.
In a 2 quart saucepan over medium-low heat melt butter; add cream, garlic powder, salt, and peppers; simmer for 20-30 minutes stirring constantly, until thick.
Meanwhile, cook fettuccine noodles according to package directions, coordinating so that the sauce and noodles are done about the same time. This is important because if the sauce cooks too long it will separate and though it will still taste great it won't look pretty!
Remove sauce from heat and stir in cheese. Do not heat sauce after cheese has been added.
Serve sauce over hot fettuccine noodles and sprinkle with parsley if desired.