Featherweight Breakfast Cake
truebrit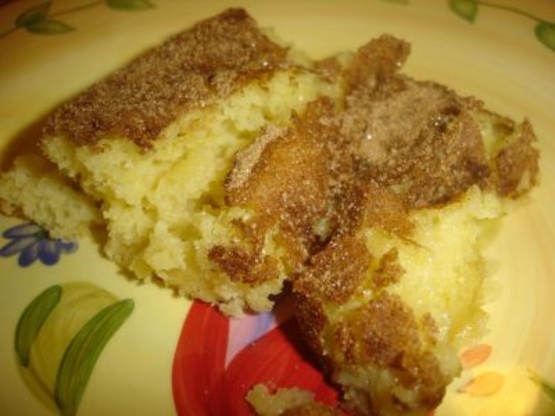 The recipe was given to me 25 years ago. This is a very quick and light breakfast cake. Not too sweet and delicate.

Quick and light with a nice buttery taste. My 8x8 was in the freezer so I had to double the recipe to fit into a 13x9 pan. I baked for 30 minutes and it turned out great.
Preheat oven to 375 degrees. Grease 8X8 square pan.
Melt butter and cool slightly and add milk and beaten egg, set to the side.
In bowl, sift the next four (4) ingredients, 2 times. Add butter, milk, and egg mixture and stir only enough to smooth out any lumps.
Combine the remaining sugar and cinnamon for the topping, in a small bowl or in a ziploc bag.
Pour batter into greased pan and sprinkle the mixture of sugar and cinnamon over the top and bake 12 to 15 minutes.