Faux Potato Salad With Cauliflower
Tiz4tggr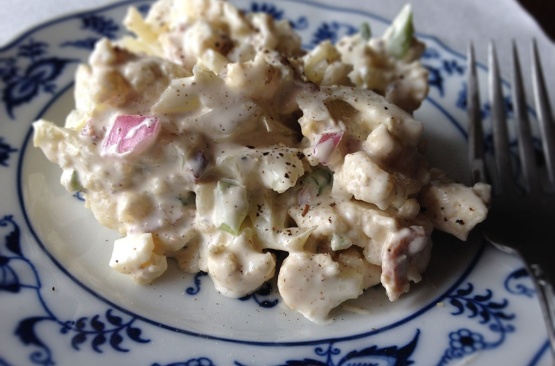 I love a good potato salad. It's one of those warm weather dishes that I could, honestly, made a meal of. It's not carb friendly at all though. From the low carb lucy website.
Place chopped cauliflower into a medium bowl with 1/4 cup of water. Cover with plastic wrap and cook in microwave, on high for 4 1/2 minutes.
Drain cauliflower and place into ice water bath to stop cooking and chill.
Meanwhile, in a large bowl, combine dressing ingredients and mix well.
After 5 minutes or so, the cauliflower should be chilled. Drain well, then dry between a few layers of paper towels. You don't want any water to water down your dressing.
Add the cauliflower to the bowl of dressing and combine.
Garnish with mix ins. Stir to combine before serving.