Fast Thin Gluten Free Pizza
Nif_H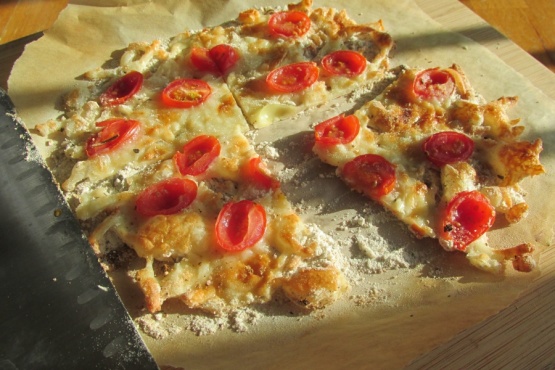 I accidentally came up with this recipe one night when I was baking mozzarella sticks and accidentally left it in the oven too long! It turned out tasting just like pizza so I'm grateful for my mistake!

Top Review by Nif_H
What a tasty dish! I made this on parchment paper so I could have easily skipped the flour - it didn't really seem to add anything to the recipe. I used low fat mozzarella (twice the amount) so it wasn't greasy at all. I also sliced some grape tomatoes and really liked them on this. Maybe some fresh herbs, sauteed mushrooms or some spinach would be good too! Made for my adopted chef for Spring PAC 2013. Thanks Attainable Health! :)
Move shelf in oven near the top then place oven on broil.
Grease a cookie sheet.
Sprinkle some almond flour onto greased cookie sheet in the form of a circle.
Sprinkle italian seasoning, salt, and onion powder over almond flour.
Grate cheese over the almond flour.
Cut a slice or two of tomato into pieces and scatter over the cheese.
Cook for 2 minutes or just until cheese has melted and the edges are brown.
Remove from oven and let cool 1-2 minutes. Use a spatula to remove pizza to a plate. If you want you can quadruple the ingredients and make a larger pizza, this size is perfect for one person.