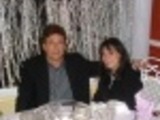 I won't kid you...this is not the time-consuming, tried and true method for preparing this French classic. However, it is great in a pinch, and will fool your guests into thinking you spent much longer in the kitchen than you did!
Directions
In saucepan, cook onions in butter until onions are tender. Add broth, water and Worcestershire sauce. Bring to boil. Simmer, covered, 25 minutes.
Spoon into 4 ovenproof bowls. Place piece of French bread in each bowl. Sprinkle with Parmesan cheese. Top with cheese slice. Broil until cheese melts.
Most Helpful
WOW. Delicious. Attempted something else gluten free, had already sautéed the onions and did not want to waste them. Googled quick onion soup and it landed me here. I used gf spreadable beef bouillon, water, a small dash each of black pepper, oregano and Lowrey's garlic salt and the worchestershire sauce, bringing it to a quick boil. Meanwhile, in the toaster oven I placed a gf slice of bread (from the freezer), topped with a bit of mozzarella and jarlsberg to melt, and poured myself a bowl and added the bread/cheese "raft" - soooo delicious. This quick recipe rivals any slow cooked "proper" onion soup. Yum.
really nice, I made it to use as a base for a casserole, but then i liked it so much i ate it

Jackie, this may not be time consuming and complicated, but it is better than any other French onion soup I've ever made! I had to make some changes based on what I had, but nothing major. I used 4 cups of water and 5 beef bouillon cubes as the base, and I added about 1/4 cup of white wine. I think the butter is the key! It was fabulous!