Fantastic Apricot Muffins
Toadflax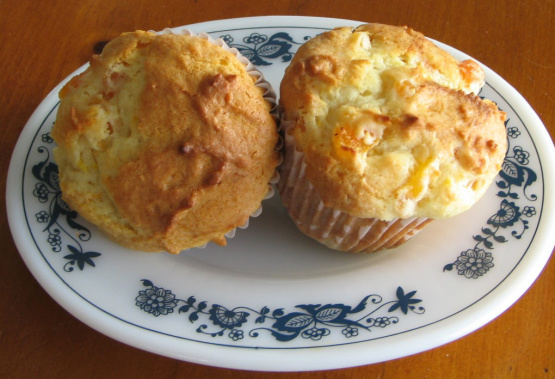 These muffins ar so fruity and moist. Wonderful for breakfast with tea or coffee, for brunch with an omelet, or so good as an afternoon snack.

These muffins are moist and delicious! I added an egg to the batter because it was so thick. They turned out great. I also substituted vanilla yogurt for the sour cream and lemon zest for the orange because I was out of both. I will definitely be making these again ;)
Soak apricots in boiling water for 5 minutes.
In a large mixing bowl, cream sugar and butter until fluffy.
Add sour cream; mix well.
Combine dry ingredients; stir into creamed mixture just until moistened.
Drain apricots, discarding liquid.
Fold apricots, orange peel and nuts into batter.
Fill greased or paper-lined muffin tins 3/4 full.
Bake at 400 degrees for 18-20 minutes or until muffins test done.
Cool 10 minutes before removing to a wire rack.