Fantastic Apricot Chicken
Food.com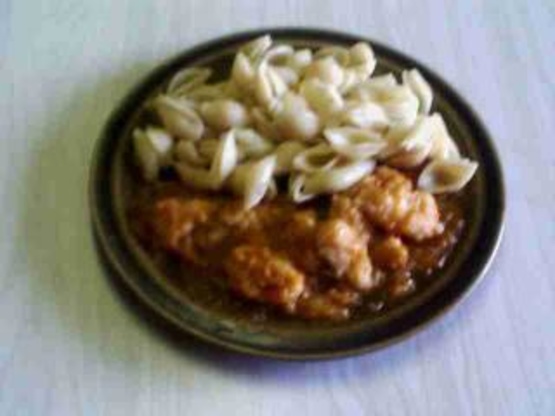 The best apricot chicken recipe in the world. You will love it as much as everyone I know that has tasted it. Yummy, yummy, yummy, yummy need I say more?

Definitely 'fantastic' and 'yummy', I used one large chicken breast for 2 servings, cut down on the cornflour, and only had the apricots and not the nectar. Just added a little water instead, and was still a 5* recipe. Also had it with rice instead of pasta. Thanks for posting =)
1

kg chicken breast

1

package French onion soup

1

(500 ml) can apricot halves

1

(500 ml) can apricot nectar

1

cup cornflour
oil (a tiny bit)
pasta (of your choice)
Cut the chicken breasts into cubes.
Place the cornflour and pepper in a small plastic bag so that you can shake the cornflour onto the chicken pieces.
Start cooking your pasta so that it is ready when the chicken is.
Shake the cornflour onto the chicken pieces.
Place the oil into a frying pan and cook the chicken so that it is fully cooked.
Mix the french onion soup and apricot nectar together and add to the chicken in the frying pan.
Cook and stir for a couple of minutes.
Add the apricot halves and the juice from the apricot halves.
Stir continually and cook for a further 10-15 minutes so that the flavor can be absorbed by the chicken.
Serve.