Family Favorite Potato Salad! (German Kartoffelsalat)
BecR2400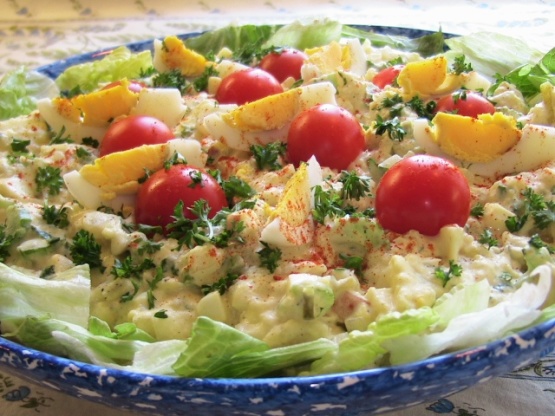 This is my version of both my mother's and German grandmother's potato salad. A family favorite that is a requirement at all gatherings! I hope you enjoy.

This recipe was a Christmas miracle in our house. I've NEVER made a successful potato salad, although I'm a reasonably competent cook. I made this for our Christmas Eve dinner, and we were all blown away by how delicious it tastes. It does make a lot, so I'll probably make a half a recipe for our family of 3 if I am making it just for us. I used a golden delicious apple and vidalia onion. I also used a very high quality olive oil that I reserve only for making dressings or for dipping bread. I wouldn't change a thing about this. The only issue I had was that I think I may have overcooked my potatoes slightly. They held together OK, but I had to be very careful when mixing this. This is not an issue with the recipe - just one of the problems that always plagues me when trying to make potato salad. Thank you for saving my family from a lifetime of deli purchased potato salads!
8

medium russet potatoes, scrubbed but not peeled
1⁄2 cup white onion, finely chopped

1

apple, chopped

2

stalks celery & leaves, very thinly sliced

4

dill pickles, chopped

1

tablespoon sweet pickle relish, heaping

2

teaspoons sugar

1

tablespoon cider vinegar

1

tablespoon pickle juice

1

tablespoon extra virgin olive oil

2

teaspoons yellow mustard (such as French's)

1

cup mayonnaise (such as Hellman's or Best Foods)
1⁄2 teaspoon kosher salt
1⁄2 teaspoon ground black pepper

2

tablespoons parsley, finely chopped, divided use

5

hardboiled egg, divided use
fresh tomato, slices for garnish (or grape tomatoes or cherry tomatoes)
fresh torn lettuce leaf, for garnish
paprika, for garnish
In a large covered pot, bring potatoes to a boil in enough salted water to cover by at least 1 inch. Lower heat to a simmer, and cook about 25-30 minutes or until potatoes are tender when pierced with a fork, but still firm. (Cooking time will vary according to the size and freshness of the potatoes).
Drain potatoes in colander, and briefly run cold water over the potatoes. Transfer drained potatoes back into the empty covered pot and set on a very low flame for just a minute or two, being careful not to scorch them. This will help to dry the potatoes and to ensure that they are not wet or soggy. Return potatoes to colander, and let them cool to the touch.
Peel and then slice the potatoes into one inch pieces.
In a large bowl, stir together the onions, apples, celery, dill pickles, sweet relish, and one tablespoon of the chopped parsley.
In a separate bowl, whisk together the sugar, vinegar, pickle juice, olive oil, mustard, mayonnaise, and the salt and pepper. Pour over the onion mixture, stirring well to coat evenly.
Add the potatoes and 3 chopped hardboiled eggs. Fold and stir gently to combine. Transfer to a wide and shallow serving dish.
Garnish with 2 quartered hardboiled eggs, tomato slices, and the torn lettuce. Sprinkle with remaining parsley and the paprika.
Cover and keep refrigerated until serving time.