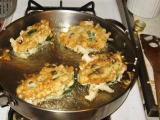 This one is the goods. I marinate my fajita beef steaks before grilling them whole over charcoal and then I slice them after they achieve medium rare doneness. This marinade provides the Tex-Mex flavor that you're seeking when making fajitas. I use both sirloin steaks (cut 2" thick) and flatiron steak for fajitas -- both are really tender and the marinade makes them even moreso. If you don't have rice vinegar, just use either plain white vinegar or white wine vinegar. This recipe will generate enough marinade for 4-5 pounds of meat. I hope you enjoy the flavor as much as we do!
Directions
Blend all ingredients.
In a casserole dish, roll steak in marinade until it is completely coated and marinate, covering the dish with cling wrap, overnight, turning the steaks at least once during the marinating process.
Be sure to grill your steaks over high, direct heat, either on a gas grill or charcoal grill. It will probably only take about 4-5 minutes per side.
Most Helpful
The meat was really tender but the flavor is not 'Tex-Mex' despite the cumin. It is unlikely we'd make this again.