Fairest Wheels (Chicken Pinwheels)
Bobtail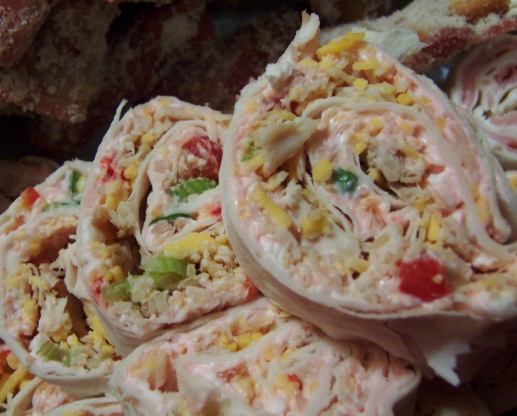 I had these at a girlfriends bridal shower and I just had to get the recipe from her sister, these are the tastiest little things. I could have eaten half the tray myself! Great little party snack or appetizer!

Top Review by Bobbie
These are so, so good! I've made other "pinwheels", but these are our favorites thus far. The red pepper jelly is a MUST. And I did add a little extra per some of the other reviews -- I might even "pump" it up a little more the next time. I wished I could "master" the technique of wrapping the pinwheels tighter! I thought I had them really tight, but when I cut them, they weren't as tight as I had wanted. But they held their shape ok -- so I guess I shouldn't complain. All do NOT omit the lettuce, it's really important. One thing that I will be sure and change the next time is to at least DOUBLE THE RECIPE!!!! You sure can't eat just one pinwheel. (And I placed the chicken in my small food processor and chopped it that way -- it was the perfect consistency). Thanks for sharing your recipe.
In medium bowl, combine chicken, lettuce, cheddar cheese, green onions and red pepper.
Set aside.
In small bowl, beat together cream cheese, sour cream, and red pepper jelly on low speed of electric mixer.
Spread 1/3 cream cheese mixture over one side of tortilla.
Sprinkle with 1/3 chicken mixture, leaving 1/2 inch border at top just covered with cream cheese mixture (so you can seal it closed.) Roll up tightly, jelly roll style.
Wrap tortilla roll in plastic wrap.
Repeat with remaining tortillas and filling.
Refrigerate for 2 hours.
Trim off the ends and cut each roll into 8 slices, serve cold.