End of Summer Ratatouille
Barb G.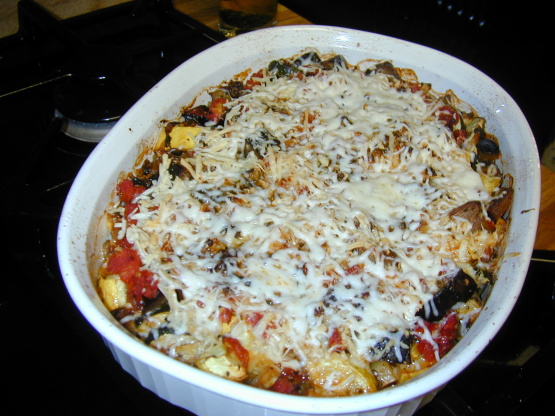 This is one of the recipes I adopted. With proper instructions to follow, it's very tasty! Thank goodness we can get a variety of fresh produce year round!
We love Ratatouille, This is delicious, I could really Pig out on this. I did omit some of the peppers, Used a small can of diced tomatoes with a little of the juice, (Would use fresh if they were riper than the ones at the store) and cut the recipe down to half for the 2 of us. I used Parmesan Cheese and Romano and a little Mozzarella cheese in the topping with the basil, also put some basil in with the veggies. This made a great meal with some french bread and a side salad. Thank you Julie.
1⁄4 cup olive oil

1

medium eggplant, diced into 1-inch cubes

2

yellow squash, diced into 1-inch cubes

2

zucchini, diced into 1-inch cubes

1

red bell pepper, diced into 1-inch cubes

1

yellow bell pepper, diced into 1-inch cubes

1

green bell pepper, diced into 1-inch cubes

3

large tomatoes, coarsely chopped (ripe)
1⁄4 cup Italian parsley, coarsely chopped

1

red onion, peeled and coarsely chopped

4

cloves garlic, finely diced

1

tablespoon kosher salt

1

teaspoon fresh ground black pepper

2

tablespoons olive oil
1⁄2 cup fresh basil leaf, chopped

11

ounces montrachet or 11 ounces chevre cheese, crumbled or 1 cup parmesan cheese, grated
Mix together in a small bowl: parsley, red onion, garlic, 1 Tbsp salt, 1 tsp black pepper, 2 Tbsp olive oil
In Medium skillet, heat oil and saute eggplant and red onion until soft, stirring often.
Transfer eggplant/onion and oil into decorative 9x13 or larger, baking dish.
Toss remaining vegetables, except the tomatoes, with the parsley garlic mixture and fold into the eggplant mixture.
Scatter tomatoes on top.
Cover with foil.
Bake at 350 degrees for 30 to 45 minutes, or until vegetables are bubbly.
While baking, prepare topping: Combine 1/2 cup chopped fresh basil leaves with your choice of cheese: 11 oz log montrachet or chevre cheese, crumbled or 1 cup grated Parmesan cheese
Remove foil and top with basil and cheese mixture, return to oven for a scant 5 minutes.
Serve at once.