jswinks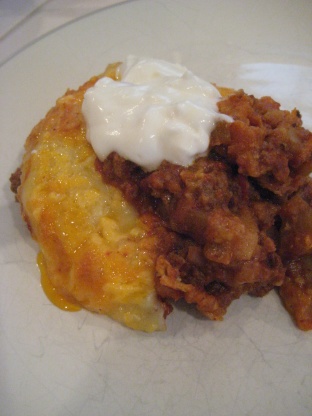 Southern Living; a potluck favorite

Great Mexican casserole! I used only one pound of ground beef, and added minced garlic instead of garlic powder (we're garlic fiends). Didn't have green chilis, so I dumped in about 1/4 cup medium salsa instead. The bake time was just right - I used a large cake pan (13 x 9) to bake it in. I will make it again, but won't use 2 cans of diced tomatoes - I'll just use one, then I think it will be perfect! Thanks for the recipe.
In a large skillet, mix together ground beef, onion and garlic powder.
Cook over medium heat until meat is browned.
Drain excess fat.
Add next 7 ingredients.
Cook 5 minutes, stirring occasionally.
Tear each tortilla into 8 pieces.
Place half of tortilla pieces in oblong baking pan.
Top with meat mixture.
Place remaining tortilla pieces evenly over meat mixture.
Mix together soup and milk.
Pour over tortillas; spread evenly.
Sprinkle cheese evenly over top.
Bake at 350 degrees for 45 minutes.