Enchanting Springtime Pasta Toss
Prep 15 mins
Cook 15 mins
There is nothing like the desert in the spring time. With a minimum amount of water the desert springs to life with varied and beautifully vivid colors. This salad celebrates the freshness of spring with the chili peppers that are native to this part of the country along with a lively dressing that is made with a touch of chili powder. The recipe comes from the spring 2006 Sabrosa dining guide.
Directions
Cook the pasta according to package directions; drain well and rinse under cold water; allow to thoroughly drain.
Combine the pasta, tomatoes, onion, chili peppers, olives and bell peppers in a large bowl.
Toss to mix well.
Combine the remaining ingredients in blender jar and blend lightly to thoroughly combine.
Pour the dressing over the pasta mixture; tossing gently to coat.
Cover and refrigerate overnight to allow flavors to blend.
Serve garnished with additional cilantro.
Most Helpful
I made this for lunch; amazing! We really enjoyed the combination. I did cut down the recipe and made it for 2 but still managed to include all the main ingredients.Have a hard time to resist a recipe with olives.I made it for WT3.Thanks for posting. Rita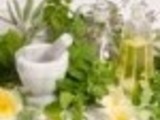 This is a MEAL all by itself!!! And it makes a great Summertime meal,cold and refreshing.Not hard to make and easy on the pocketbook. Thanks for a great recipe, Darlene
Had this for lunch two days in a row. Yummy salad that was easy to make. My DS loved it too! Thanks Paula!