Pagan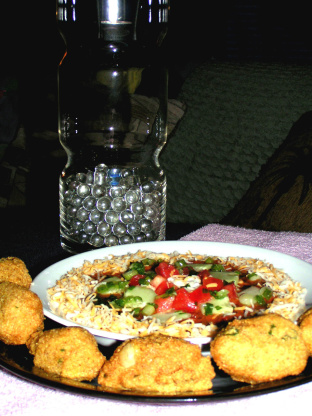 You can leave out the *starred ingredients for a more kid-friendly chili. Otherwise, this is hot, hot, hot! And good, good, good! This makes a HUGE pot of chili, so you can make ahead and freeze in single or custom portions for use as a side item, or larger portions for the main course.
2

tablespoons balsamic vinegar

2

lbs lean ground beef, chuck

1

lb beef, cubed

3

large onions, coarsely chopped
1⁄2 cup bell pepper
1⁄2 cup celery
1⁄2 cup green onion, scallions, minced

4

garlic cloves, sliced paper-thin

1

(20 ounce) can diced tomatoes with juice

1

(20 ounce) can tomato concentrate

2

tablespoons chili powder

1

tablespoon cumin

2

cups water

3

teaspoons artificial sweetener

1

tablespoon salt

1

(111 ounce) can chili beans

1

(16 ounce) can corn, creamed
1⁄4 cup masa corn flour, finely ground

3

jalapeno peppers, finely minced, seed in*

3

habanero peppers, finely minced, seed in*

2

teaspoons cayenne pepper, red pepper, finely ground*

2

tablespoons Tabasco sauce, habanero*
In a large stew pot, brown ground chuck. When the chuck produces grease, add and saute the cubed beef, celery, bell peppers, onions, green onions, and garlic until onion is tender [about 12 minutes]. Stir to prevent sticking.
Add tomatoes [with fluids] and concentrate, 2 cups water, peppers, chili powder, artificial sweetener, cumin, salt, bay leaves, cayenne, and tobasco. Bring to a boil.
Reduce heat to medium, cover and simmer for 90 minutes, stirring often to prevent burning on bottom.
Remove bay leaves and stir in beans and creamed corn. Stir thoroughly to mix, and continue to cook for 30 more minutes.
In a heat-proof 16 ounce cup, fetch up 2/3 cup hot broth from the top of the pot. Mix with the masa until completely blended and rising has stopped. Stir untilr mixture has lost its rise, and slowly stir mixture into pot, blending continuously. Stir thoroughly to distribute masa evenly throughout pot, cover, and simmer on low for 20-30 more minutes.
May top individual servings with a dollop of sour cream, covered with finely shredded sharp cheddar cheese, and minced green onions. Also most excellent with hushpuppies by *jen* [Recipe #101662] as the bread.