Elegant Mascarpone Topped Sugar Cookies (Deceivingly Easy)
Cook4_6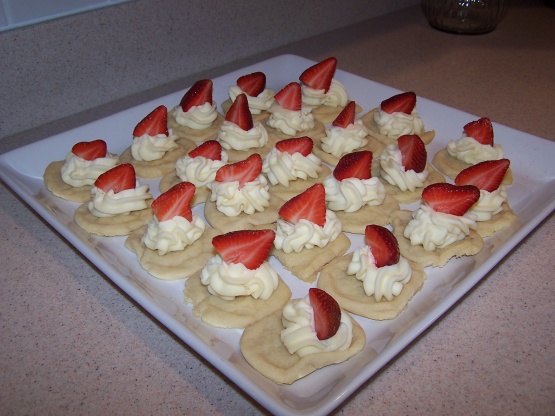 I whipped these up to take to a friends house in less than 45 minutes today. They are so yummy and would make a perfect valentine dessert. They are even faster when you buy sugar cookies from the local bakery! (I do not know the exact size of the package of cookie dough, so it is estimated)

Make-ahead recipes w/versatility, simplicity & a lovely presentation get high marks from me. This 1 hits a home-run for meeting all 4 goals. Your intro seemed to allow for a shortcut, so I took 1 & used pre-made cookies that I describe as a marriage of a sugar cookie & shortbread. They were "sculpted" in a way that created a center well where I placed the cheese & sugar mix & it had an ideal level of sweetness in combo w/the cookie. The cookies were also larger than specified, so I added a cpl of blueberries to ea for added color. This is easy, good & definitely will be made again. Thx for sharing this recipe w/us.
Prepare sugar cookies as directed on the package and cool.
Mix mascarpone with confectioner's sugar.
Place the cheese mixture in a pastry bag and pipe through a star tip onto the cookie.*.
Remove stem from strawberry and slice in half.
Place one half of a strawberry on each cookie. You can use a single raspberry or blackberry instead of strawberries if you prefer.
* You can carefully spoon the cheese mixture on the cookie if you don't have a pastry bag.