Egyptian Toasted Pine Nut Couscous With Garlic Shrimp

A delicious way to use shrimp. Posted for Zaar Worid Tour III
Make and share this Egyptian Toasted Pine Nut Couscous With Garlic Shrimp recipe from Food.com.
Directions
Peel, devein and rinse shrimp if needed, and then pat dry.
Place shrimp in a large self-sealing plastic bag.
Add oil, garlic, tarragon, thyme and Old Bay seasoning and seal bag.
Gently turn and 'massage' the bag to coat the shrimp with the marinade.
Refrigerate for at least one hour.
Prepare the couscous according to the package directions, substituting the chicken broth for the water.
Stir the pine nuts and onions into the couscous and set aside.
Combine the lemon juice and butter in a bowl, and set aside.
Saute the shrimp in a large skillet with the marinade over medium heat for 3 to 5 minutes or until shrimp turns opaque( Do not overcook or the shrimp will be tough).
Pour half of the butter over the shrimp.
To serve, divide the spinach among individual bowls.
Spoon the couscous onto the spinach.
Arrange the shrimp on the couscous and pour the remaining lemon butter over everything. Sprinkle with shredded parmesan.
Reviews
Most Helpful
DH and I made this recipe upon the recommendation of a friend and really enjoyed it. It was very easy to make and the flavor was delicious! I added this to my list of keepers. Thanks for posting!

This is one of those recipes that I find now and then that deserve more than 5 stars! Absolutely delicious! Flavors are all very subtle and nothing overpowers anything else. I halved the amount of shrimp called for because I was serving as a side to a chicken breast, but with the full amount, this would make an excellent dinner on its own! And very quick and easy! Thanks for another keeper!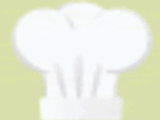 Never being able to leave well enough along, I made this with coarse (#3) bulgur wheat, soaked overnight in chicken and veggie broth, rather than the couscous and marinated the shrimp overnight as well. I also boosted the seasonings a little and almost doubled the garlic, and it still was not too highly seasoned. Next time, I think I may give the spinach a quick saute and stir it into the bulgur, rather than bedding with it. This was really delicious, and I am sure I will be fixing it often. Thanks for sharing.