Eggless Milkless Date Nut Cake
chia2160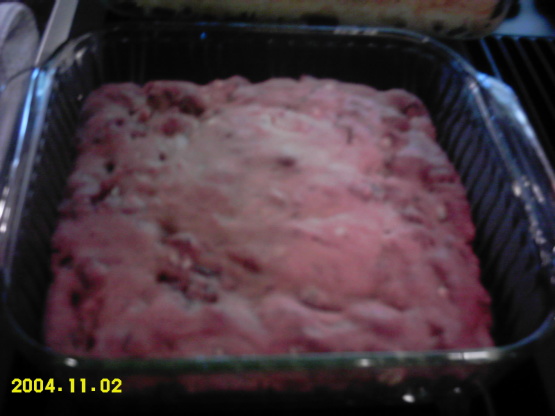 This recipe is easy-peasy to make vegan by subbing margarine or oil for the butter and leaving off the whipped cream. "This recipe is quite old, and is traditionally a Christmas dessert. I have taken it to several LLL meetings and always get requests for the recipe." - Janice Trevail of Catskill, NY. This recipe was published in the La Leche League International cookbook, Whole Foods for the Whole Family.

This turned out great and disappeared quickly! Very moist even with the ww flour and less oil. I added some cinnamon and nutmeg and subbed apricots and figs for the dates since I didn't have any on hand. I will be making this again!
Preheat oven to 350F and grease and flour a 8" or 9" square pan.
In a large bowl, combine dates, walnuts and other dry ingredients.
In a small bowl, mix water, butter and vanilla.
Add water mixture to date mixture and mix until just moistened.
Pour batter into prepared pan and cake for 30-40 minutes or until a toothpick inserted into the center comes out clean.
Serve warm or cold; plain or topped with whipped cream.