Sara 76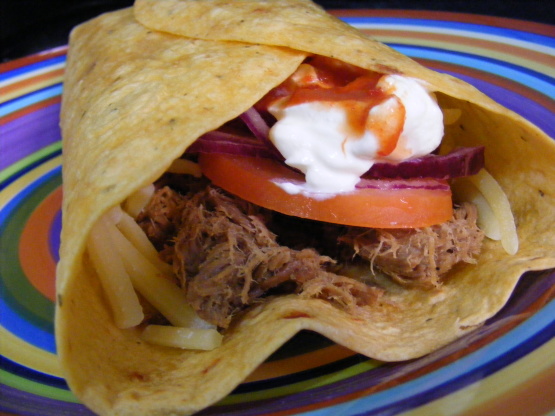 This is a very easy dish to make in the crockpot. I usually serve this with corn tortillas and red beans & rice. It can be varied by the spices or even usinga bottle of salad dressing.

This was a huge hit with our family! Even my fussy 9 year old asked for the leftovers for lunch today! It was so simple to make, and as I already had most of the ingredients on hand, it was quite economical. The meat ended up so soft, and the flavours were awesome! We served it on sundried tomato tortillas, with cheese, red onion, tomato, sour cream, nad hot chilli sauce (no sauce for the kids). It made a huge amount of meat, but I'm sure it will get used up, and regardless, it looks like it would freeze well! Thanks for sharing, we will definately be having this again! :)
Place everything in the crockpot.
Turn on high for 1 hour.
Then low for 6-8.
Let the meat cool slightly and then shred.
Heat the tortillas on a grill pan and enjoy.