Easy Sticky-Toffee Dessert
Juju Bee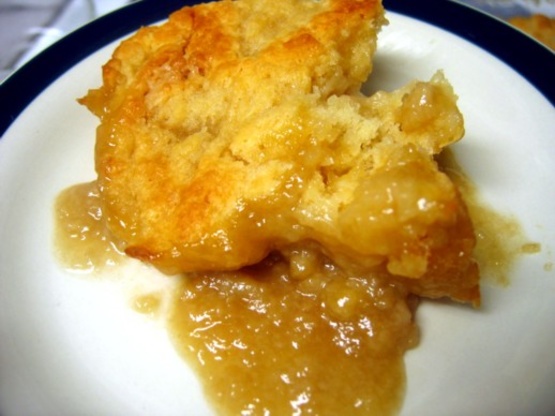 I found this in Nigella Lawson's "Nigella Bites" cookbook last night when I was searching for an easy but oh so good dessert...I love toffee pudding dessert things and this looked good...I also had all the ingredients for it. This is easy and can be thrown together when you're making other dishes and then cook while you're eating dinner...enjoy--

I've made this recipe many times and it's a hit every time. For those of you who have left out the dates, you need to know that it's the dates that make it "sticky toffee" pudding. When they're chopped up and added to the batter, they virtually disappear as the pudding bakes, and some of that toffee flavour then also infuses the sauce that forms underneath the cake. It should also be noted that this pudding should not be prepared ahead of time, refrigerated and then served. It is meant to be served while the sauce is still warm and can be spooned over top of the cake. Any leftovers can be warmed in a microwave. Sticky toffee pudding is a classic, and Nigella has found a way to make it easy for all of us to make.
Preheat oven to 375°F and butter a 1 1/2-quart capacity baking dish (I used a combo of Pam and butter and it worked fine).
Combine the sugar with the flour in a large bowl.
Pour the milk into a measuring cup, beat in the egg, vanilla and melted buter and then pour this mixture over the sugar and flour, stirring--just with a wooden spoon--to combine.
Fold in the dates then scrape into the prepared baking dish.
*Don't worry if it doesn't look very full: it will do by the time it cooks*.
Sprinkle the sugar for the sauce over the batter and dot with the butter.
Pour the boiling water over the whole thing (yes, really!) and transfer to the oven.
Set timer for 45 minutes, though you might find the dessert needs 5 or 10 minutes more (this was a frustrating part, for whatever reason I ended up having to put it back in for almost 20 minutes-- but then it was very cake-like, Remember that it thickens up when you take it out).
The top of the dessert should be springy and spongy when it's cooked; underneath, the butter, dark brown sugar and boiling water will have turned into a rich, sticky sauce.
Serve with vanilla ice cream, creme fraiche or heavy or light cream as you wish.