An H.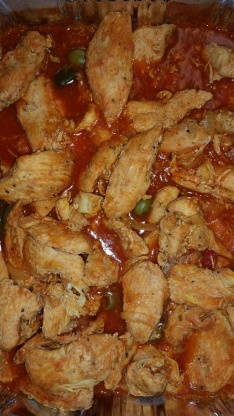 I emphasize this on all of my recipes, more of anything you prefer may be added to recipes I post. I dont cook from written recipes, just from memory. This is a simpler version of pollo guisado, modified to help busy cooks that are multi-tasking throughout the evening.
In a large pot boil chicken for about 45 minutes.
While chicken is cooking, In a large bowl, add all other ingredients EXCEPT 2 cup of water. Stir and set aside.
Drain chicken, rinse in cold water, cut into strips. Set aside.
Place vegetables/seasoning mixture into the large pot with the 2 cups of water. Heat to boiling.
Once boiling, turn to low. Add chicken and let it simmer for 1 hour. Stir every 10-15 minutes. Remove from heat. Let stand for 5-10 minutes.
Remove bay leaves, and serve.