Easy Low-Fat Creamy Dill Salmon
MsSally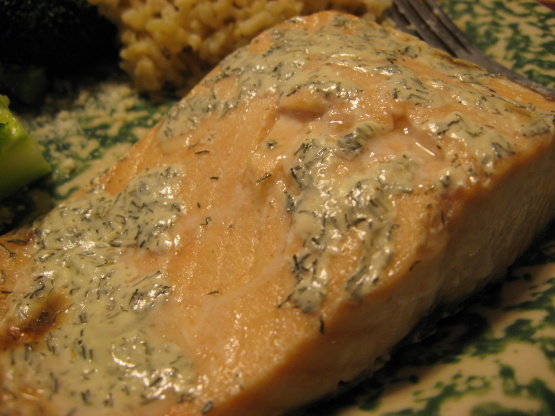 Really easy, really good, low-fat salmon recipe. My family's favorite. Can also make this with a frozen salmon filet.

We have a winner. I made it a little less complicated. I mixed the lemon juice, dill and mayo together and spooned over the salmon. I wrapped it in a tent of foil and baked for about 23 minutes on 425. It was so good and so easy. Thanks for another good way to include more salmon in my diet.
Lay salmon filet on large piece of tin foil (shiny side of foil facing up).
Sprinkle salmon with lemon juice.
Spread enough mayo over salmon to cover the filet.
Season with salt and pepper.
Season with enough dill to cover the filet.
Make a "tent" around the salmon with the foil.
BBQ on medium heat until salmon is cooked to your liking.