Lvs2Cook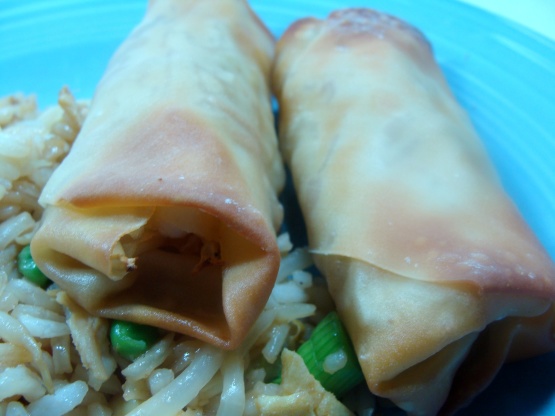 Still on an egg roll kick. These egg rolls can be baked instead of fried if desired. Just brush them with oil, place on a baking sheet and bake at 375 until golden brown.

These were great. I omitted the ground beef and opted for a veggie egg roll. I added 2 cups shredded carrots and 1/2 cup chopped scallons. It only made 20 egg rolls, but I used a smaller package of coleslaw mix (10 oz) I think. I baked mine in the oven. The flavor was wonderful, but of course the texture is different for the baked ones. I cooked them about 15 mins I think. I didn't really pay attention, I just took them out when they were brown. Definately will be making these again. Maybe add tiny cooked shrimp.
In a bowl, combine the first six ingredients; mix well. Place an egg roll wrapper on work surface with one point facing you. Place a heaping tablespoon of beef mixture in center. Fold bottom third of wrapper over filling. Fold in sides.
In a small bowl, combine flour and enough water to make a paste. Moisten top corner with paste, roll up tightly to seal. Repeat with remaining wrappers and filling.
In an electric skillet, heat 1 inch of oil to 375*. Fry egg rolls for 3-5 minutes or until golden brown.
Note: Fill egg roll wrappers one at a time, keeping the others covered until ready to use.
Egg rolls can be reheated in a microwave for 2 1/2 to 3 minutes.