Easy Cranberry Relish (Microwave)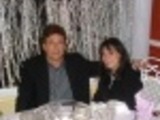 Make this condiment in only 15 minutes in your microwave when you're looking for something slightly different to serve with your holiday meal.
Directions
Combine cranberries and the water in medium microwave-safe bowl. Cover with waxed paper and microwave on High power for 2 minutes.
Stir in remaining ingredients and microwave covered 2 minutes longer. Let cool to room temperature.
Reviews
Most Helpful
This was simple and delicious. I used defrosted cranberries, and a small navel orange in place of the tangerine. I found the onion to be very dominant - with the short cooking time it doesn't mellow, so I would cut it back a bit. I did cook the completed relish for an extra minute, the texture is really nice, soft but slightly chunky and the sweetness level was just right. Made for PRMRT.