Boomette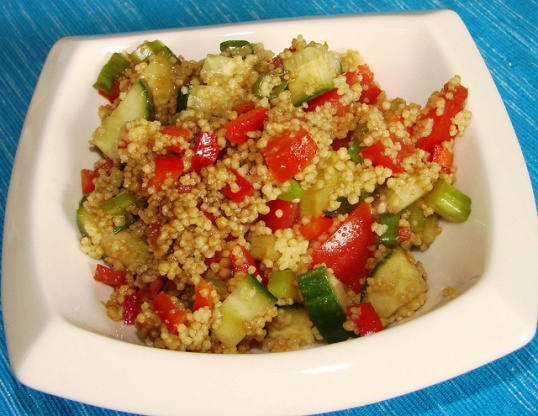 This past summer was very hot and this salad fitted perfectly. Not too heavy, yet filling and above all, easy to make.
This salad is so yummy. When I made it, we found it tasted too much the balsamic vinegar. But after a night in the fridge, it doesn't taste too much balsamic vinegar. It's so yummy. With lots of fresh veggies. I just omitted the parsley. Thanks Chef Dudo :) Made for Ramadan tag game
Bring stock to a boil in a heavy saucepan.
Stir in couscous.
Cover pan, remove from heat and set aside 15 minutes Combine balsamic vinegar, olive oil, mustard and lemon zest in a small bowl.
Mix well.
Transfer couscous to a large bowl.
Fluff with a fork.
Add tomatoes, red bell pepper, celery, cucumber, scallions and parsley to bowl with cooked couscous.
Mix gently.
Pour dressing over mixture and mix again.
Season with salt and pepper.
Can be served luke-warm or chilled.