loof751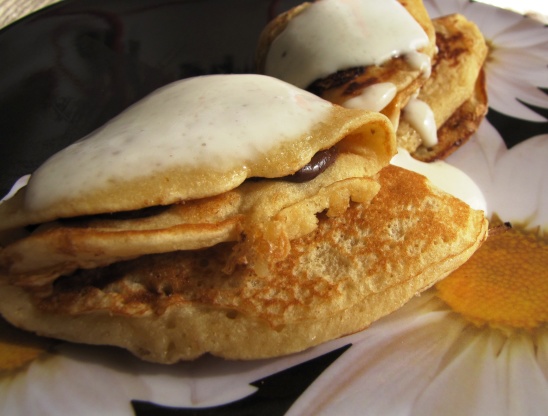 Great for that early morning pick-me-up: pancakes with chocolate chips. Cocoa is thought to possess anti-depressant qualities, and also contains iron, magnesium, phosphorus and potassium - all vital in a healthy diet. The recipe also contains the optional ingredient of a tablespoon of orange liqueur or rum. Perhaps not for breakfast, but great if you're making these for dessert, when you may also want to use high quality dark chocolate instead of chocolate chips. This recipe has been adapted from one I found on an International Masters '1001 recipes for pan or wok' recipe card. In the preparation and cooking times below, I have not included the 1 hour standing time in step 2.

This is a great, sweet, rich breakfast treat! I can see this being used as dessert as well. I ran out of patience and only let my batter sit for 45 minutes (instead of 1 hour) and my pancakes came out nice and fluffy. I served mine with sweetened sour cream. With the chocolate this is probably best saved as a special occasion breakfast, but the pancakes are really good without the chocolate too! Thanks for posting this recipe!
Sift the flour into a bowl, add the sugar and salt, make a well in the centre and add the egg and egg yolk; beat together until the flour is mixed in, gradually add the milk, then strain through a fine sieve.
Melt half the butter and stir it into the batter. Add the orange liqueur or rum (if using) and leave the batter to stand for 1 hour.
Melt a little of the remaining butter into a non-stick pan and spoon 1/8 of the batter into the pan, cook for 2-3 minutes on each side, or until almost cooked.
Sprinkle a few chocolate chips over the pancake. When the pancake starts to melt, fold the pancake into quarters, and transfer it to a warm serving plate and keep warm while you cook the remaining pancakes.
Dust the pancakes with icing sugar and serve with cream, yoghurt or icecream and your choice of berries or other fruit.