Easy Chile Relleno Casserole
er96ul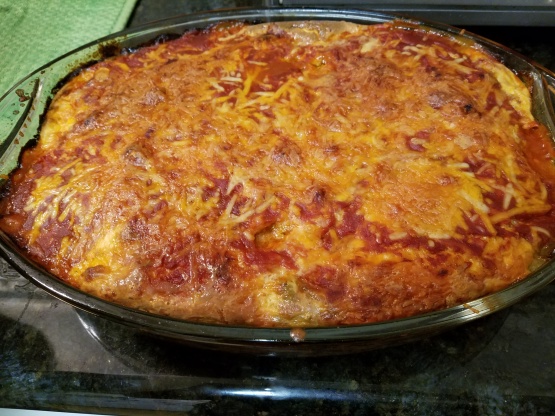 This is such a simple dish and so pretty especially at holiday time. It's been a family favorite for years and always dissapears first when I take it to potlucks.

I made this with 3 large fresh Poblano peppers. I also used a prepackaged Mexican cheese mixture. When I made it, I wondered whether it would be better with enchilada sauce instead of tomato sauce. As it turned out, it is absolutely perfect! I cooked it just a bit longer because it was just a little runny - but not too bad. I did dry my peppers also. The extra cook time softened the fresh peppers a bit more- which was good. I will definitely make this again. I have always wanted to make stuffed Chile Relleno peppers, but with this recipe I will never need to learn! So easy - and tastes just like the ones made with eggs at restaurants! Thanks for this awesome recipe!!! Also - I thought with all the cheese it would be thick and cheesy, but to my delight - the egg mixture combined with the cheese and turned into a light fluffy, cheesy texture. Yummy!
Beat Half& Half with eggs and flour til smooth.
Split open the chilies, rinse and remove seeds.
Wipe dry with paper towels.
Mix together the cheeses setting aside 1/2 cup cheese for the topping.
In a 1 1/2 quart casserole dish that is lightly greased layer the chilies, cheese mixture and egg mixture alternating till all is used.
Spoon the tomato sauce over the top and sprinkle the reserved cheese over the tomato sauce.
Bake uncovered for 1 hour at 375 degrees.
Enjoy!