Bergy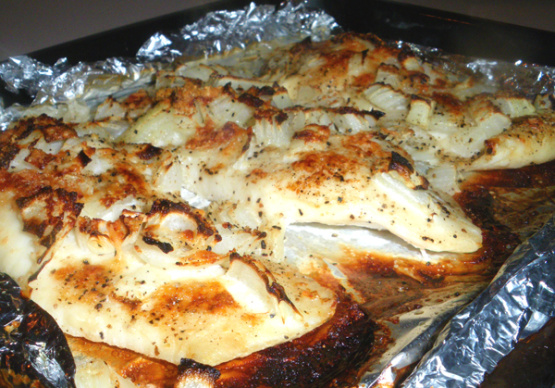 I quite often bake my fish this way. Easy & simple, nothing fancy, but we like the result. I actually do not even measure the ingredients anymore and just throw it together, but these are the original measurements. Sometimes I add a little lemon juice or lemon pepper seasoning and top it all off with a sprinkling of parsley for a little colour.
1

lb fish fillet (I always use haddock)
1⁄4 cup milk
1⁄2 onion, thinly sliced (I slice into rings and break them apart and in half if they are too big)

2

tablespoons butter
3⁄4 cup grated cheddar cheese
salt & pepper
Place fish in a greased pan with dabs of butter on top.
Season with salt& pepper to taste.
(this is where I sprinkle on lemon juice or lemon pepper if using) Cover with sliced onion.
Pour on milk.
Bake at 400 degrees for 12-15 minutes.
Remove from oven and sprinkle with grated cheddar cheese and a little parsley if desired.
Return to oven until cheese melts.