Bec6206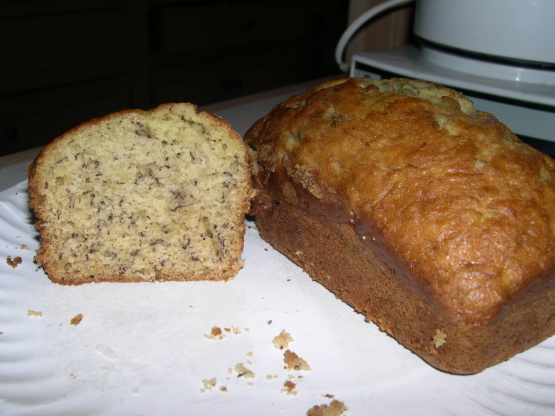 My mom got this from a friend- I think it is originally from Better Homes. My siblings loved this when it was made in mini-loaf pans- a fun change from the regular size! Served best when warm with butter on top- You can always put it in the microwave for a few seconds to heat up a slice later on!

This recipe is simple and delicious. A great way to get rid of black bananas.
Preheat the oven to 350 degrees.
Mix the sugar, butter, eggs, and milk together with a spoon in a bowl.
In a separate bowl, combine flour and baking soda.
Add 1/2 of the flour mixture into the sugar and egg mixture.
Then add 1/2 of the banana mixture, and alternate until all in mixed together.
Put batter in a greased loaf pan or into miniature loaf pans.
Bake 40-60 minutes, depending on the size of the pan (they should be golden brown on the top).
Enjoy!