East African Roast Chicken
Debi9400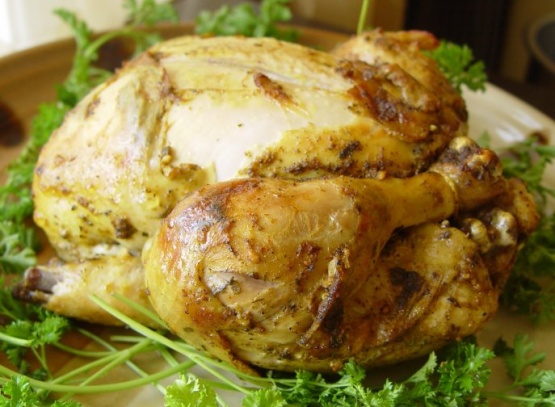 From: "The Essential African Cookbook" by Rosamund Grant. Needs to marinate overnight.

This easy-to-make recipe also appears in The Taste of Africa, a cookbook by Rosamund Grant and Josephine Bacon. I didn't have any tomato puree, so replaced it with one finely chopped cherry tomato. Otherwise I followed the recipe. In future, I would remove the foil covering much earlier than suggested. My chicken didn't brown up much -- I didn't take a photo as the finished bird wasn't as photogenic as I would have liked. Also, the flavours were surprisingly mild. Like Beautiful BC, I expected a more intense result. In future, I would at least triple the cumin and add a chopped chili to the marinade mix. That said, the finished bird was very moist and tender.
Remove the giblets from the chicken, if necessary, rinse out the cavity and pat the skin dry.
Put the butter and all the remaining ingredients in a bowl and mix together well to form a thick paste.
Gently ease the skin of the chicken away from the flesh and rub generously with the herb and butter mixture. Rub more of the mixture over the skin, legs and wings of the chicken and into the neck cavity.
Place the chicken in a roasting tin, cover loosely with foil and marinate overnight in the fridge.
Preheat oven to 375F/190°C.
Cover the chicken with clean foil and roast for 1 hour, then turn the chicken over and baste with the pan juices.
Cover again with foil and cook for 30 minutes.
Remove the foil and place the chicken breast-side up. Rub with a little extra butter and roast for a further 10-15 minutes until the meat juices run clear and the skin is golden brown.
Serve with a rice dish or a salad.