Easiest Ever Chocolate Mousse With Lemon Cream
ImPat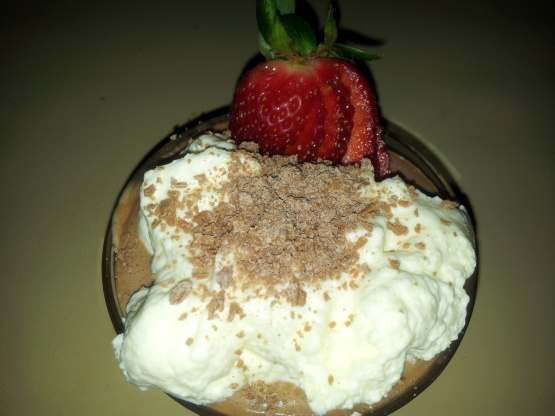 Just over a minute in the blender and chill. How easy can you get? this is perfect for summer when you don't want to be cooking much or any time you want something simple and yummy.

Boy this one is hard for me to rate; I'm sure I must have done something really wrong though I think I followed the recipe??? This never did firm up for me, more like a chocolate drink. The flavor was good & the lemon cream topping to die for - but the Mousse just did not work and I left it in the fridge over night thinking it just needed a little more time. I couldn't even post the photo as it looked so bad, but I will try this again to see what I did wrong & come back to update this. Made for Rookie Recipe Tag game Fall 2013
Place chocolate in blender.
Bring 3/4 cup water, 2 tablespoons sugar, and espresso powder to simmer in medium saucepan, stirring to dissolve sugar.
Pour over chocolate.
Cover tightly; blend 5 seconds.
Add egg whites.
Cover tightly; blend on high 1 minute.
Pour into 4 small bowls.
Chill until firm, about 2 hours.
Whisk cream, lemon juice, peel, and 1 tablespoon sugar in small bowl to very soft peaks.
Spoon over mousse; serve.