Dukka - Egyptian Spice Mix
COOKGIRl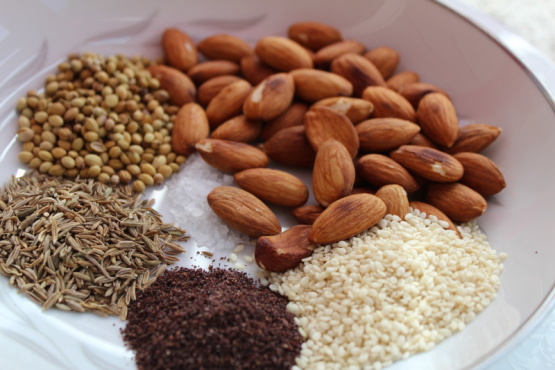 Entered for safe-keeping. From June 2012 Vegetarian Times. This mix of coarsely ground nuts and spices is served with olive oil and bread for dipping with breakfast, or as a snack or appetizer.

Yum! And easy to make. I used regular almonds because i couldn't find blanched almonds. I added some to gently warmed extra virgin olive oil to dip bread into. everyone liked it. Now to find other ways to use it! Made for Welcome to Egypt in the NA/ME Forum 5/12.
Preheat oven to 350°F Spread almonds on baking sheet, and toast 5-7 minutes, or until light brown and fragrant. Transfer to bowl.
Meanwhile, toast coriander, cumin, and salt in skillet over medium-low heat 3 minutes, or until coriander is light brown and mixture is fragrant, swirling pan constantly. Place in bowl with almonds. Cool completely.
Coarsely grind almond-spice mixture and sumac in food processor, or grind with mortar and pestle. Transfer to bowl, and stir in sesame seeds. Store in airtight container.