Prep 30 mins
Cook 55 mins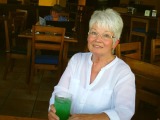 From "Baking, From My Home to Yours" Dorie Greenspan. I always like her recipes.
Directions
Center a rack in the over and preheat to 350°F.
Butter and flour a 9-10 inch bundt pan.
Whisk together the dry ingredients, flour through salt.
Working with a stand mixer fitted with the paddle attachment beat the butter and sugar on medium speed, scraping the bowl as needed, for 3 minutes, or until the mixture is smooth, thick, and pale.
Add the eggs one at a time, beating for about 1 minutes after each addition; you'll have a light fluffy batter.
Reduce the mixer speed to low and beat in the apple butter.
Add the grated apples and mix to completely blend.
Add the dry ingredients, mixing only until they disappear into the batter.
Using a rubber spatula, fold in the nuts and raisins.
Turn the batter into the bundt pan and smooth the top of the batter with the spatula.
Bake for 50-55 minutes or until a thin knife inserted deep into the center of the cake comes out clean.
Transfer the cake to a wire rack to cool for 5 minutes before unmolding.
Cool completely before serving.
The cake taste much better after a day or two.
Most Helpful
This is a lovely moist cake - I loved the fact that you grate the apple. I used pear sauce for the apple butter and omitted the raisins but otherwise I followed the recipe as written. Thanks, it tasted great!
This is a fabulous cake! The house smells wonderful, cake is delicious...and everyone thinks I'm great LOL. Thank you Rae for a great recipe!

The cake smelled wonderful just out of the oven. Sadly enough the spices did not come through in the taste. The cake was very moist, a little too much. And no-it was not under-baked. If I make it again I would certainly double, even treble the spices. I liked the fact of grating the apples, yes it's a good recipe to experiment with. Thanks for posting.