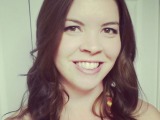 I got this recipe from my sister in law who brought these to a family dinner. She got the recipe from a church cookbook. I had to have the recipe when I tried them! They have just a hint of sweetness and are just perfect. I have made these myself and I couldn't believe how well they turned out! (p.s. These freeze really well after they are baked & you can just unthaw the amount of rolls you need in the microwave!)
Directions
Combine yeast, water, and a little of the sugar in a small bowl.
Mix sugar, milk, eggs, butter, and salt in a large bowl.
After yeast has risen a little, add to milk mixture.
Gradually add flour until a soft but not-too-sticky dough has formed.
Knead 6-7 minutes.
Let dough rise in buttered bowl until doubled in size.
Punch dough down and divide into three balls.
Roll out each ball into a flat circle and cut into 8 triangles to make crescent-style rolls.
Let them rise again, about 40 minutes.
Bake at 400 degrees for approximately 12 minutes, depending on the size of the rolls.
Reviews
Most Helpful
This is actually a review for a slightly different recipe... I haven't tried this one... but it's close to our family favorite roll recipe. Most of the quantities are right on. It's a great recipe. I actually scald the milk and add the butter then let it cool enough to add the other ingredients. When I roll it out, I brush some melted butter on the triangle shapes before rolling them! It's important not to overcook them. Also, because I think healthy eating is important, I usually substitute whole wheat flour for 1/3-1/2 the amount of flour (milled at home which is soooo much better than purchased whole wheat flour which tends to be terribly dense and not make a good product at all).

This is really delicious and not that difficult at all. Plus the cutting method makes the buns look really unique. For a good sandwich size bun, i will probably cut them a bit bigger next time (maybe quarters instead of 8th's). Thank you for this recipe, I will definitely make it again!