Divine Meatball Sandwiches
gailanng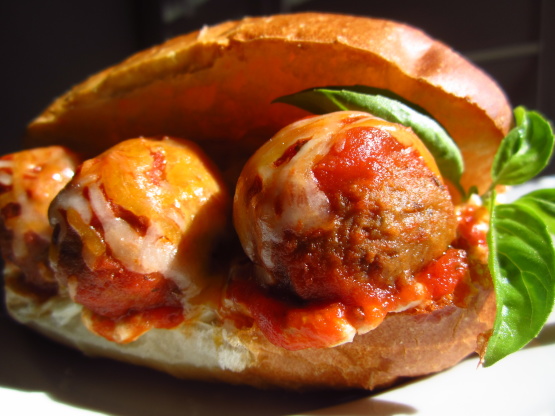 The spread on these meatball sandwiches is what really sets them apart from others. You can experiment and customize by using your favorite meatballs, sauces and fresh bread. Good for a party finger food, or for lunch or dinner. I promise no meatball sandwich will be the same again! Cook time includes entire process.

A messy treat! We used turkey meatballs and a fresh baked french loaf. Next time I would spread the cut-sides of the bread with the cream cheese mixture & cheese and broil until melted and lightly brown, THEN add the meatballs & sauce. Assembling the whole sandwich and baking as written made the outside of the bread a little too crunchy. We will also add crushed red pepper & a zippier sauce next time. A nice meatball sandwich that appeals to adults & kids alike.
In a large pot combine frozen meatballs and spaghetti sauce.
Heat over medium until meatballs are heated throughout.
Meanwhile, mix together cream cheese, mayonnaise, Italian seasoning, pepper, and garlic powder and set aside.
Slice Italian style bread loaves horizontally with serrated bread knife.
Cut loaves into three- or four-inch sections to make small sandwiches.
Spread cream cheese mixture on insides of each sandwiche's tops and bottoms.
Preheat oven to 350°F.
When meatballs are heated, spoon onto sandwiches and top with shredded mozzarella cheese.
Put sandwich tops on and place on a foil-lined baking sheet.
Bake about 10-15 minutes or until cheese is melted.