cyaos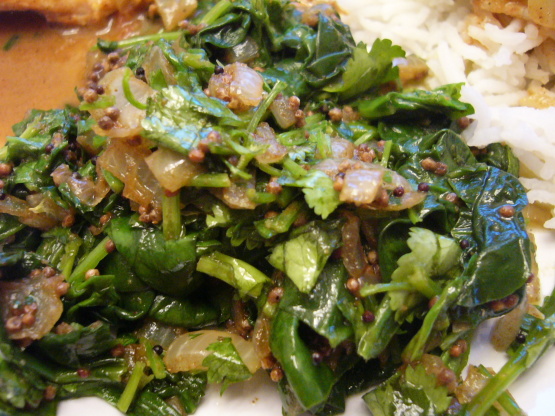 this recipe was divinely inspired. i threw it together while cooking an impromptu dinner at my house along with two friends. i have been trying to create a delicious spinach or greens dish for a while now, and finally, success!

Loved the Spinach! Thought this was a great recipe that goes well with just about anything.
wash, chop, and steam spinach.
wash and chop cilantro, discarding lower stems.
heat ghee in saucepan on medium-high setting.
once ghee is hot, add mustard seed.
once mustard seeds pop, add chopped onion and sautee till translucent.
reduce heat to medium-low; add to pan the steamed spinach, cumin, coriander, salt, and cayenne.
remove pan from heat and add chopped cilantro, stir.
serve with your favorite indian main dish.