Dilly Beans (Pickled Green Beans)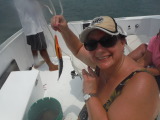 Perfect addition to a bloody mary or just straight!
Directions
Prepare 6- 1/2 pint jars & lids for canning. Fill processing pot half way with water, simmer over light heat.
Trim green beans to 1/4" shorter than jar.
In 2 quart saucepan combine brine ingredients heat to boiling over high heat.
In each jar place 1 dill sprig, 1/8 of crushed red pepper (an extra clove of garlic if desired). Pack green beans tightly into jars.
Remove garlic from brine, ladle brine with in 1/4" of the top of the jars. Place lids on jars (do not tighten all the way).
Process for canning by simmering in processing pot until bubbles do not rise from the lids. Carefully remove and allow jars to cool.
I am an amateur canner - please feel free to verify canning procedure!
Reviews
Most Helpful
I wasn't an overbig fan of this but my six year old was. I served them cold on the side of grilled meats

I added a lot more garlic...but LOVE these. Just as a snack, in a bloody mary...or on a wrap. I am an amateur canner too, very easy to do. Thanks, this is a keeper.