Parsley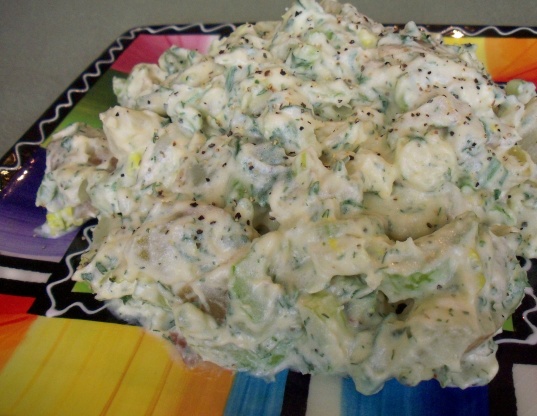 Taken from an ad for Hellmann's Dijonnaise Creamy Mustard Blend. My mum lost this recipe recently and it turned into a bit of a crisis when we couldn't find a comparable one online, as this is the best one we've found (and just about the only potato salad I'll eat), so when we found it again, we agreed that it should be preserved on here in case it goes missing in the future!

Top Review by suebu7
HALLELUJAH! I too lost this recipe and have been trying to find it for years! I don't know why I just now, (you posted 2 yrs ago) found your post but I'm so happy!! Isn't this just the most yummy and unique flavor ever!? Everyone raves when it is served. I love the flavor of dill so I put both parsley and dill in it. I am not a cook and don't have many recipes to claim as my own and this put me on the radar. My Gran would be proud!! THANKS!
In a large bowl, combine first 6 ingredients.
Stir in potatoes, celery and onions.
Cover, chill.