Diabetic Dutch Apple Pancake
diner524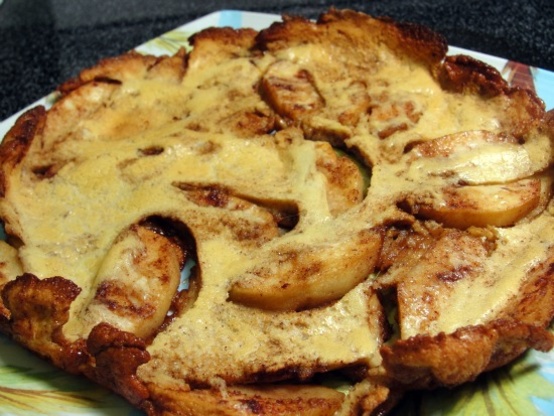 Posting for ZWT6 - Germany - Benelux
Oh my, is this ever good, I just loved this for my breakfast!!! I scaled back the recipe to serve one and had to make a change due to what I had on hand. I only had the splenda brown sugar or nutrasweet packets, so I used the brown sugar and just added it to the apple filling mixture. I then poured the batter on top and baked it. It came out a little crispy around the edges and smooth in the middle for a great texture combination. Made for your win in the football pool. Congrats!!!
Combine batter ingredients in blender or food processor. Mix until smooth. Let rest 30 minutes.
For filling, melt margarine in 10-inch ovenproof skillet. Add apple slices and cinnamon. Cook over low heat for 3 minutes, stirring constantly.
Pour batter over apple, place in a preheated 425° oven and bake for 15 minutes. Reduce heat to 350° and bake 15 minutes more. Remove from oven.
Blend glaze ingredients and drizzle over top of pancake. Cut into four wedges.