Deviled Eggs With Green Olives
KinMa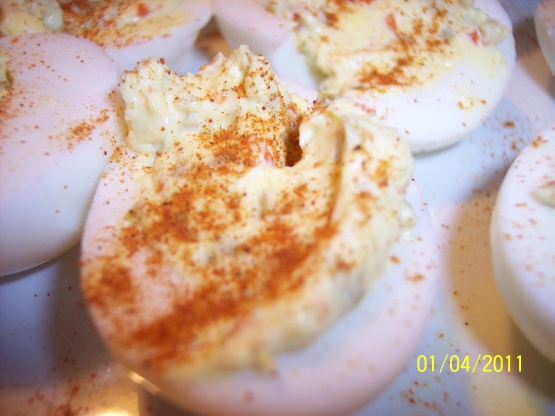 This is a slightly salty switch from the usual sweet or spicy versions of deviled eggs that most people make. Everybody says they love them even if they hate olives. I get a kick out of some people who discard the olive garnish before they eat the egg. Usually I try to use salad olives so that I can use at least as much pimento as green olive.

Top Review by KinMa
I LOVE green olives. I eat them plain all the time. Used to drink the juice too. But I'm a total dill pickle girl when it comes to deviled eggs. Green olives were just NOT good with this combo. On the other hand, my cat who loves olives and deviled eggs loved them LOL.But I wouldn't eat them again
Cut cooked eggs lengthwise into halves.
Separate yolks from whites.
Mash yolks with a food processer or in a bowl with a fork.
Mix yolks, mayonnaise, olives with pimentos, celery, and black pepper.
Fill egg whites with all of the yolk mixture.
Arrange on a dish and garnish with a paprika sprinkle or stuffed olive slices.