Delicious Tomato Salsa (Recipe for Canning)
kristyc3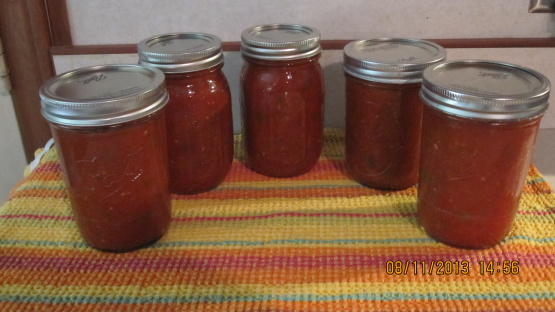 This amazing salsa recipe is a family favorite, shared by my sister-in-law Rosanna. Great for those summer-fresh veggies! Wear gloves to avoid 'burns' from chopping peppers! ENJOY! Fabulous to add in some fresh cilantro and oregano also!

Love this recipe! I canned some last year and saved the recipe. Making some right now in fact! My husband said that this salsa has ruined him for all other salsa's! He's not a picky eater but he knows what he likes and he loves this! So good. I think the cumin and chili powder add a lot! I didn't use clear jell b/c I didn't have any but I did like the other reviewer and just simmer the tomotoes longer and it thickened right up. Love this recipe...thank you!!!!
14

cups roma tomatoes, chopped (you can substitute 'standard' tomatoes, but they will be juicier)

3

cups onions, chopped
1⁄2 cup jalapeno pepper (chopped or minced)

1

cup green pepper, chopped
1⁄2 cup vinegar
1⁄2 cup tomato sauce

3

tablespoons salt

1

tablespoon chili powder

1

tablespoon garlic powder
1 1⁄2 teaspoons cumin

5

tablespoons Clear Jel, that will not break down in high heat during processing. don't substitute (Clear Jel is a modified food starch (powdered form)

5

garlic cloves, peeled and minced (optional)
Wash tomatoes and dip in boiling water for 30 to 60 seconds or until skins split.
Dip in cold water, slip off skins, and remove cores.
Chop all the vegetables and place them into a large saucepan.
Stir in next six ingredients.
Mix ClearJel with a little water until smooth; add slowly to chopped vegetables.
Heat to boil and simmer 10 minutes.
Fill jars, leaving 1/2-inch headspace.
Place lids, screw on bands fingertip-tight and process in a boiling water bath for 15 minutes at up to 1000 feet in elevation; 20 minutes up to 6000 feet in elevation and 25 minutes over 6000 feet.