Zesty Salsa for Canning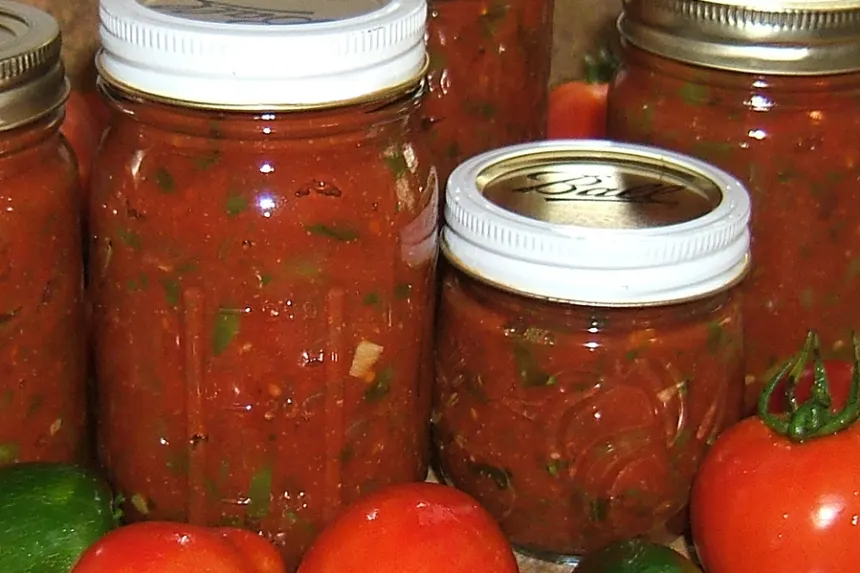 photo by Kathy228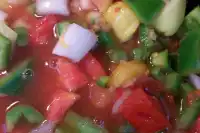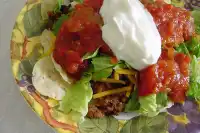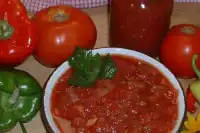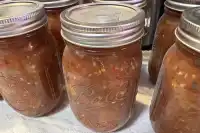 Ready In:

1hr

Ingredients:

9
directions
Combine all ingredients except tomato paste in large sauce pot.
Simmer until desired thickness.
Stir in tomato paste.
Ladle hot salsa into hot jars leaving 1/4 inch head-space.
Process 15 minutes in a hot water bath.
Note: use more hot peppers for a very hot salsa or less for mild.
It depends on how hot your peppers are and how hot you like your salsa.
I never get close to 2 1/2 cups for our mild salsa.
Questions & Replies

I love this recipe! I've used it for a few years now. Nice and chunky like we like it. I use a mix of peppers as we grow a variety. My question is... since the pandemic I can't find many pint jars and half pints are too small for us. Can I use quarts and if so, how long would the process be? I'm thinking double the time of pints but want some clarification.

 
Reviews
WOW! This is a very nice salsa to can. I did only use about 3/4 c of seeded jalepeno's and it was Z-E-S-T-Y! Maybe my crop is just hot. The only thing I might add is that when I shared my salsa with a veteral canner (this is the first time I have canned) she stated that I should have skinned the tomatoes by dipping the whole tomatoes in boiling water then chilled water and removing the skins. The only effect leaving them on had was I have some curled skin in my salsa but hey next time I will know to do that.....live and learn. Thanks for sharing a wonderful recipe.

 

I am not a fan of canned salsa (I like fresh), but this recipe is great! I had about a half a cup left after canning. When I tasted that I thought it tasted too vinegary, but 2-3 weeks later, we opened a jar, and it was awesome. I thought this would be the salsa we would eat over the winter. I am not sure it will last till then! Obviously you can change this recipe to your taste. I agree with others that posted, the paste brings it all together! I would not make it without it! Thanks for the post!

 

Very good and so easy! Thank you for posting :) Followed your recipe (with a few exceptions), let simmer for about 90 mins. and this made 6 pints of thick, zesty salsa. We used mild jalepenos from our garden and the flavor was fantastic. A little kick, but tasty. We did peel the tomatoes and used white vinegar instead of the apple cider vinegar and added about 3 T. of sugar. For the bell peppers, we used a combination of red, yellow, orange and green -- everything was fresh from the garden and what we had on hand. Word of caution: wear gloves when working with jalepenos.

 

Turned out great with some little changes. Cut hot peppers to 1/2 cup, tripled the garlic and added roasted green chiles, a teaspoon of black pepper, oh and replaced the vinegar with 100% lime juice. The USDA canning guide states Vinegar can be replaced with lemon or lime juice but lemon or lime juice can't be replaced with vinegar, because vinegar is less acidic then lemon or lime juice. I have a high grade PH meter (Oakton 50S) and check everything I can, and this recipe with 100% Lime juice had a Ph of 3.67 and I'm confident it's safe. I really don't like vinegar in any tomato product even if you add sugar.

 
Tweaks
This is my first review. I am new to canning and this is the first salsa I've made. I followed the recipe with the following exceptions. I only used four cups of onions because of personal preference. I also only used four cups of bell peppers. I used 2.5 cups of peppers though. I prefer heat. I used 4 habaneros, 4 Serrano, and the rest were jalapenos. I added some cumin. I used all fresh roma tomatos I picked up at a local farm. <br/><br/>When I first put this into the pot, I was worried that I'd just made the biggest batch of pico de gallo I'd ever seen. But as it cooked a while, it began to smell more like salsa and less like chopped onion soup. I was still quite nervous because it just wasn't what I was expecting. I cooked mine for quite a while because raw onions don't set well with me. I can eat cooked onions but hate raw onions. So I let it simmer on the stove for a full 90 minutes. <br/>As I scooped it into my pint jars, I saw that it was not as liquid as I prefer, most likely because I cooked it down so long. It was a bit chunkier than I expected. I used my ladle to crush the tomatos a bit to make it more scoopable. I also added two ladels of water to the pot. <br/><br/>I ended up with 7 pint jars and two 4oz jelly jars of salsa that reminds me of Pace Picante Sauce in color and texture. I wish it were a brighter red. Perhaps it's the Roma tomatos or the orange bell pepper and cumin that makes it a less bright red than I am used to. I can't be sure since it's my first time. <br/><br/>It does taste very tangy from the vinegar. I hope the reviewers who said it mellowed in time are correct. I planned ahead for taste testing - that's the reason I canned a couple of 4 oz jars. I want to test it in a couple of week, and again if it needs more time. <br/><br/>Although this is good, it's not the best salsa I've ever tasted. I am counting on it improving with time so I've given it a 4 star rating when I feel it is only average "for now". I think my next attempt will be a salsa with lime juice instead of the vinegar. This was very time consuming with all the prep chopping by hand. I will be looking for some sort of gadget for chopping before I tackle the next recipe.

 

This was the best salsa I have ever made tasted just like the store bought but way better cause it was all fresh.... I let this simmer for 90 mins and only used 1 1/2 cups of jalapeño and used white vinegar instead of apple cider vinegar that's all I changed and it came out great... I am going to let set for about 3 weeks to blend all the flavor together more... I got 13 half pints and 1 pint out of this batch I made....

 

I make this every year, good recipe originally from Ball Canning website--I use bottled lemon and lime juice instead of the vinegar, to add up to the originally measure of vinegar. I think the vinegar can be a little strong. Only other thing I do different is a little more sugar, I like the combination of hot and sweet flavor, especially if I use a lot of really hot peppers.

 
RECIPE SUBMITTED BY
With the changes to the email notifications and removal of private messaging, I am no longer able to respond to questions about my recipes. Yet another feature change that has made the website less user friendly. It's sad to watch a fantastic site deteriorate over the years. Some of my recipes are on my blog.
View Full Profile