gailanng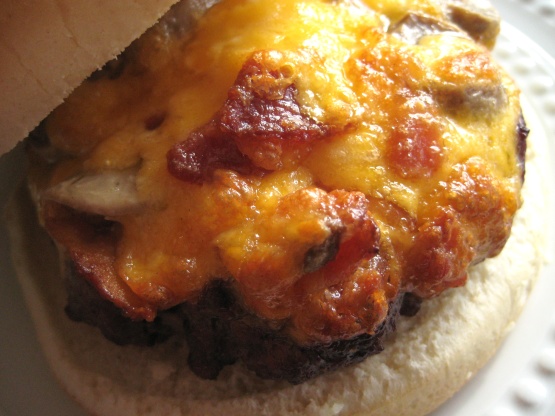 This is an easy way to make ordinary burger taste exceptionally good.

I used temph bacon instead of the real bacon. The vegetaians in our family had grilled veggie burgers with the topping while the meat eaters had the burgers from your recipe. We all enjoyed them and will probably make again when it warms up and we are looking for meals to grill. Thanks for a great recipe.
In a bowl, combine the cheese, mushrooms, mayo, and bacon.
Cover and refrigerate.
In another bowl, combine onion, salt, peppers garlic powder and pepper sauce.
Add ground beef and mix well.
Shape into 6 (1/2in) thick patties.
Grill, covered over medium-hot heat for 4-5 minutes on each side.
Spoon cheese mixture on top of each burger.
Grill until cheese begins to melt.
Serve on warm hamburger buns with lettuce and tomato if desired.