Jubes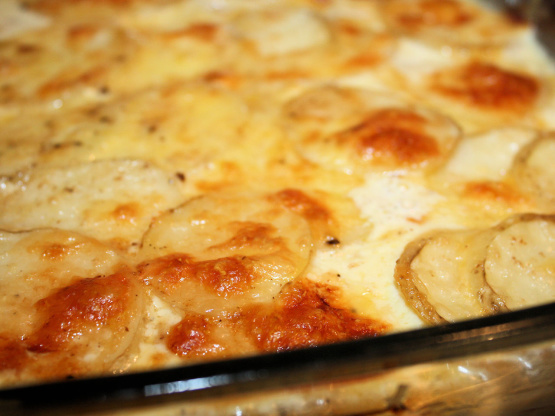 These potatoes are very yummy! They are rich, cheesy, and the nutmeg flavor really comes through. They went together very quickly and easily. I did have to cook them almost an hour. I think I may have sliced the potatoes a little thicker than I should have, although I tried to get them very thin. My family really enjoyed these and gave them 2 thumbs up. Thank you so much for sharing this wonderful recipe...it is definitely a keeper.
Preheat oven to 375°.
Lightly butter a 12" baking dish.
Scrub potatoes well and blot dry.
Do not peel.
Slice potatoes very thinly or use a mandoline (you can also use your food processor).
Divide potatoes into 3 equal portions.
Pour approximately 1/4 cup cream into bottom of the baking dish.
Lay 1/3 of the sliced potatoes evenly in rows on top of the cream.
Sprinkle 1/3 of the Gruyere on top of the potato slices.
Pour 1/3 of cream over this and grind a little pepper and nutmeg over top.
Repeat this process until all of the potatoes, cream and Gruyere cheese are used up.
You will have 3 layers.
Finish the dish by sprinkling the Parmesan cheese evenly over the top.
Cover with foil and bake for 30 minutes.
Remove the foil and bake an additional 20 minutes or until the top is browned and the potatoes are tender.